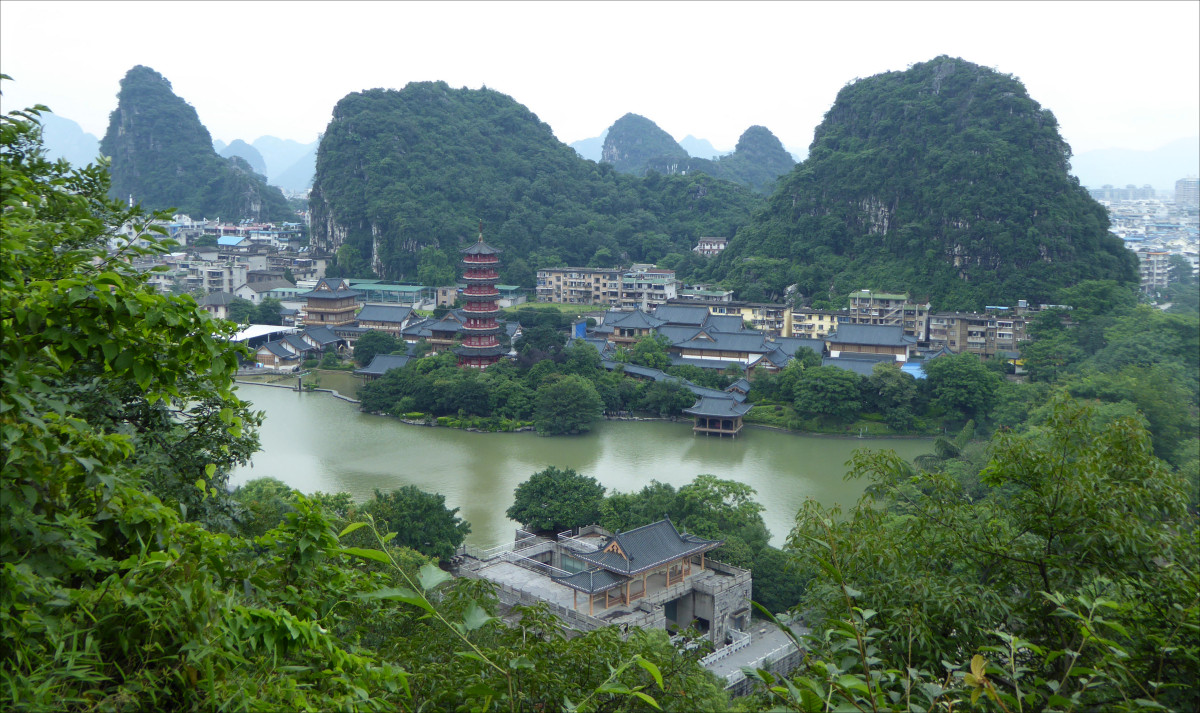 The Journey - 2015
Just like Keats in Kunming, CLI (Chinese Language Institute) in Guilin also offers one-on-one classes with accommodation at about the same price. And I had only read good things about CLI! Time to experience it myself.
After my usual four weeks of studies I flew to Shanghai to connect with my good friend Yangjie. The next day we took the train to Hangzhou to meet with his parents and spent a very enjoyable weekend together. I then had a few more days to explore Hangzhou on my own.
My next destination was Taiwan. After working together on a software project for several years, I was looking forward to finally meeting Lisi in person. Maybe go for dinner? We ended up going for many meals and even more hikes and walks during our unforgettable, action-packed week in Taipei and Taroko National Park.
Back on the mainland I stopped in Nanjing, one of the Four Great Ancient Capitals of China, for a few days before heading back home to Canada.
Guilin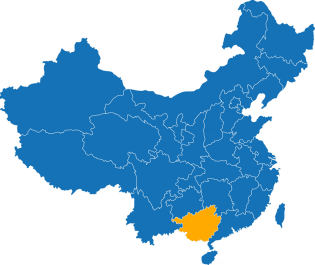 Guilin is a "small" city (population over 4.5 million) in southern China, famous for its karst topography. The land is flat except for the mountains that are poking up everywhere. Several are developed as parks. It is always worth climbing the steep stairs chiseled into the mountain. The views are spectacular.
The typical urban setting is interspersed with rural areas, unexpected little pocket villages. One of them was right behind the CLI (Chinese Language Institute) building where I spent the first 5 weeks of my stay. A half-hour walk on a small dirt road led from the school right to downtown. It was one of those places where you spend five minutes and come back with an hour of stories to tell. I'll write a separate article about this unique place on Lingjian Road and the changes over the years later.
My time and learning experience at CLI were outstanding and I highly recommend the school to anyone interested in tackling Mandarin. Just like at Keats, all my teachers were excellent. Besides that, CLI's approach is different in many ways:
Every student has three teachers instead of one. Based on 20 hours one-on-one classes per week, the focus is roughly divided in:
10 hours grammar and general language development
6 hours reading and writing
4 hours talking and listening.
Interns help students getting settled, running errands like buying a sim card or registering at the local police station (a legal requirement) and are wonderful companions for all kinds of activities and local exploration.
CLI's social activities – usually one every day – range from farewell dinners to multi-day trips to the Longji Rice Terraces. What a treat! I'll dedicate separate sections for some of our unforgettable outings on the page for 2016.
Teachers and staff often stay for many years, and there is a very positive workplace climate. The 3-teacher-design, interns taking over time-consuming tasks, and having a dedicated event organizer all contribute to a manageable and balanced workload. This also impacts the students' experience: from the welcome at the airport to the final good-bye hugs and beyond (!) I felt like being part of a group of dear friends.
Visited: Seven Star Park – Culture Street - Elephant Trunk Hill - Jingjiang Princes' Palace (Wang Cheng) - Solitary Beauty Peak - Diecai Hill - Zizhou Park - Fubo Hill
Preparing this post was a real pleasure. Not only came the past alive as in all previous articles, it was also a time to reconnect and catch up with my teachers and friends mentioned on this page. We shared pictures, videos, memories, bits and pieces from our current lives and I feel closer to everyone than ever.
Hangzhou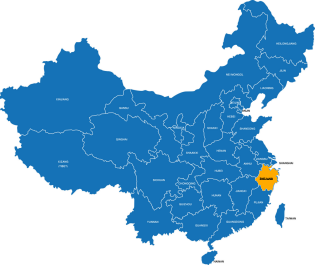 Let me start with an unbelievable true story:
At our last class at CLI in Guilin, my teacher June and I talked about our next plans. She was wrapping up things in Guilin to take on a new position in Shanghai. I was going to fly to Shanghai the week after, meet there with my friend Yangjie, stay for one night, and leave for Hangzhou the next morning. Too short for a visit in Shanghai, so we said our good-byes on that day.
I arrived in Shanghai on Friday night. After a lovely evening with a delicious dinner, a short tour at Nike where Yangjie was working at that time, and so much to catch-up on, Yangjie and I headed to the metro station the next morning. Guess, who we met when we entered the subway car? Exactly, June with a group of her new students!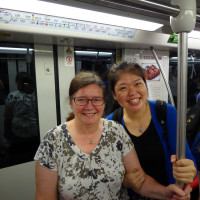 Yangjie – very punctual by nature – had arrived about 20 minutes late at my hotel. While waiting for the next subway, we changed our line-up position several times for no particular reason. Coincidence or - as all my Chinese speaking friends would exclaim - yuanfen*?
* 缘分 yuán fèn: fate or chance that brings people together; predestined affinity or relationship; (Budd.) destiny

With both living in the same city and after adding each other on WeChat, I was sure that they would stay connected. It wasn't meant to be. A year later, the three of us met again in Shanghai and we enjoyed a fun-filled day, but that was the end of their strange "yuanfen".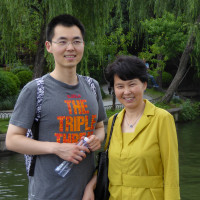 Yangjie's parents met us in Hangzhou. We spent the weekend together, walked part of the famous West Lake, climbed the Six Harmonies Pagoda, and enjoyed delicious meals together. Thanks to their arrangements I could stay at the Hupao Mountain Resort which is surrounded by tea plantations in a picturesque mountainous area. Over the years Yangjie's family has done so much for me, taken me to places I would have never been able to discover by myself, introduced and invited me to kind-hearted relatives and friends, and just let me be part of their lives for a while. I know that I will never be able to repay their hospitality and generosity, but I still hope that one day I can welcome them on Vancouver Island and play my part in creating an unforgettable time for them on our beautiful coast.
I then explored Hangzhou on my own for another week.
Visited: West Lake - Six Harmonies Pagoda - Dreaming of the Tiger Spring (Hupao) Park – Zoo - Zhejiang West Lake Gallery - Wushan Square and Wushan Hill - Eight Diagrams Field - Lingyin Temple
I wrote an article about Hangzhou and its environmental challenges a while ago: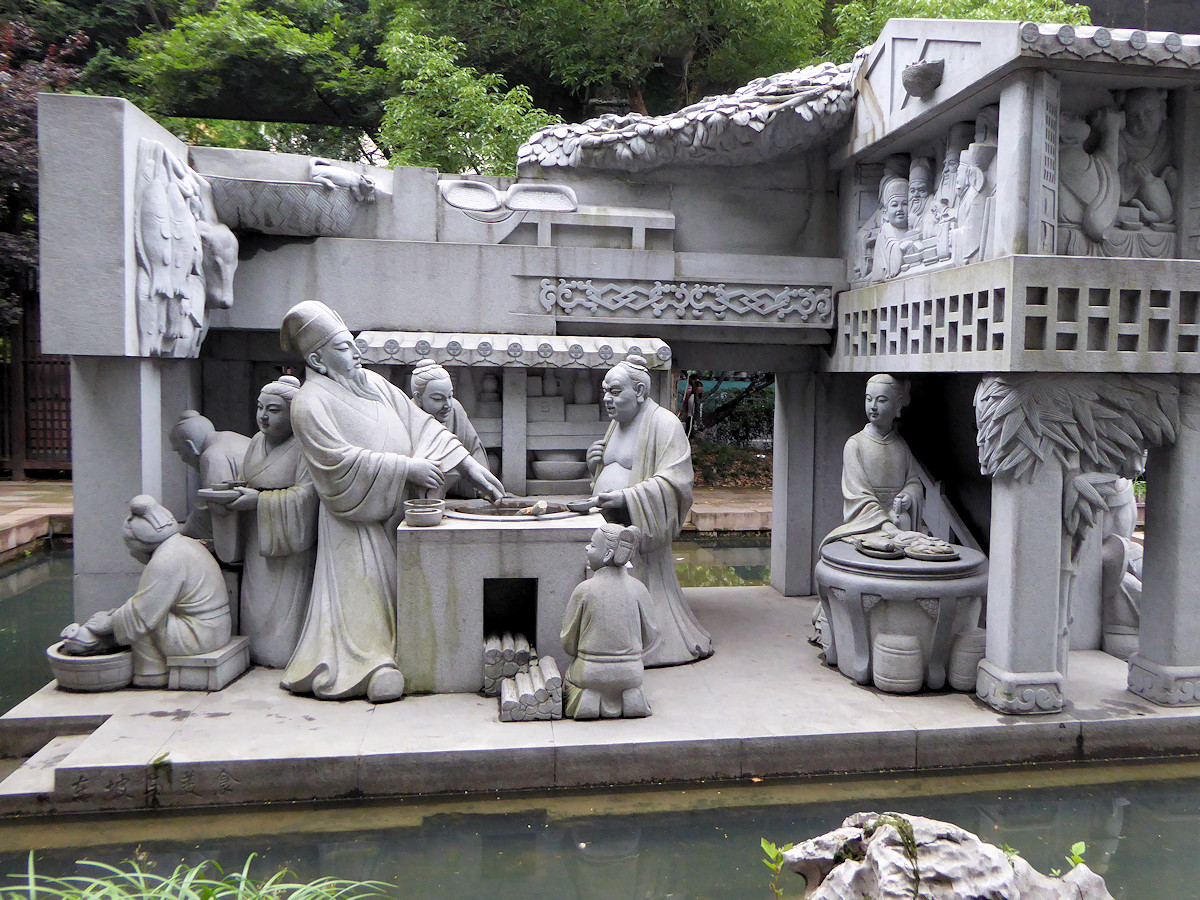 Old and new legends from Hangzhou's West Lake
Taiwan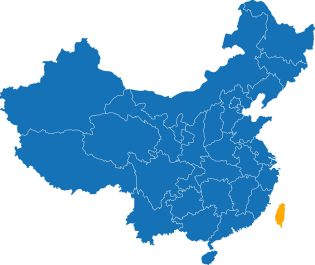 Less than a week, impressions as if I had stayed for a month, memories for a lifetime!
Taiwan was such a big surprise, so different from what I had envisioned. With a little over 36,000 km2, Taiwan is only 5,000 km2 larger than Vancouver Island. Taiwan's population is over 23 million, while Vancouver Island's is less than 1 million. Before visiting and looking closer, I thought that Taiwan must be more or less one huge city with hardly any untouched wilderness left. I was so wrong! There's spectacular nature everywhere!
My friend Lisi welcomed me in Taipei, and the next day we were on the train to Taroko National Park.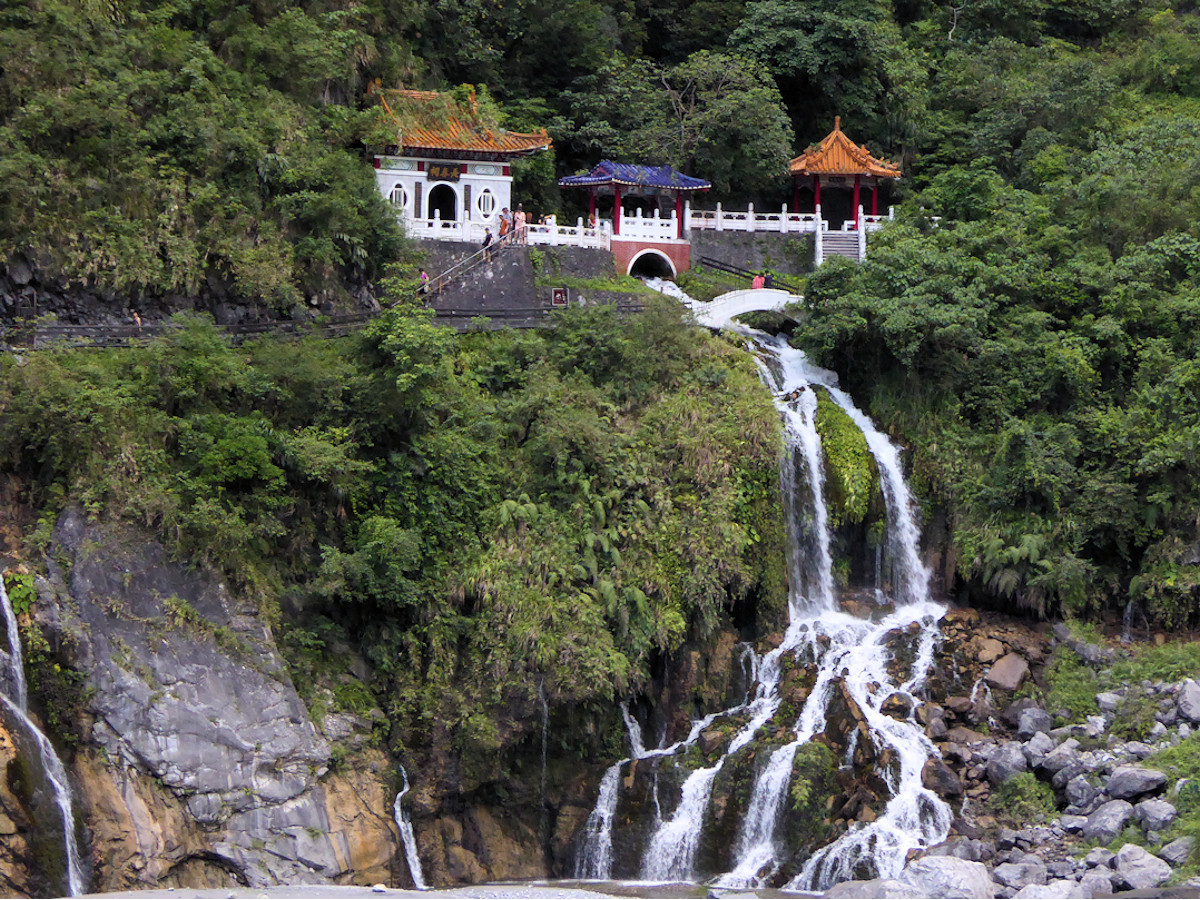 Follow our unforgettable time in Hualien County / Taroko
I only had time to visit a few of Taipei's many famous sights and places. The National Palace Museum is home to nearly 700,000 pieces of ancient Chinese imperial artifacts and artworks, making it one of the largest of its type in the world. The museum's exhibits continuously rotate, as only a small percentage of the collection is displayed at any given time. Photography is strictly forbidden. Lacking visual memory, I'm left with a blank page. I only remember that I was mighty impressed!
In 2010 I met Wang Yu, a young Taiwanese woman at Beomo Temple in Busan, South Korea, and we ended up spending the rest of the day together. Five years later, we reconnected in Taipei, and she invited me to come along to a local Martial Arts competition. Love it when I'm simply included in whatever is happening.
My last day was again action-packed. Lisi and I took the subway to the terminal station Xin Beitou. One moment we were in the middle of the big city, the next we were in the middle of Yangmingshan National Park!
Visited: Longshan Temple Night Market – Hualien / Taroko National Park – National Palace Museum – Shilin Night Market – Taipei 101 – Beitou – Hot Spring Museum – Yangmingshan National Park - Xiaoyoukeng – Menghuan Lake
Nanjing
Nanjing played a major role since ancient times and is known as one of the Four Great Ancient Capitals of China. Naturally, it wasn't a city to be missed!
City Wall and adjacent Xuanwu Lake Park were in walking distance. Although the Great Wall with its well-preserved sections in the Beijing area and the 14-km long city wall in Xi'an are better known, I enjoyed strolling on top of this amazingly well preserved 600-year-old wall in Nanjing.
Purple Mountain with more than 200 heritage and scenic sites can easily be reached by subway. I focused on the Sun Yat-Sen Mausoleum, built in the early 20th century, and the Ming Xiaoling Mausoleum with the "Sacred Way" leading to it. The pathway is lined with imposing stone warriors and 12 pairs of mythical creatures guarding the Hongwu Emperor (1328-1398) and his wife.
Jumping forward to Republican era history, I visited Yuhuatai Memorial Park of Revolutionary Martyrs with its humongous stone statues. This site is NOT – as I first thought – related to the Nanjing Massacre.
Let's put it all in context without getting into details.
Sun Yat-sen was the provisional first president of the Republic of China (1912-49) and the first leader of the Kuomintang (KMT, Nationalist Party of China), often referred to as the "Father of the Nation" or the "Forerunner of the Revolution". The Mausoleum on Purple Mountain bears witness to the high respect and admiration he receives up to this day.
After Sun Yat-sen's death in 1925, Chiang Kai-shek became the leader of the Republic of China in 1928, first in Mainland China until 1949, then in Taiwan until his death in 1975. In 1927 Chiang and the KMT started large-scale massacres across China, known as the "White Terror", in anti-Communist suppression campaigns.

Citing Wikipedia:
One of the most famous quotes from Chiang (during that time) was that he would rather mistakenly kill 1,000 innocent people than allow one Communist to escape. Some estimates claim the White Terror in China took millions of lives, most of them in the rural areas. No concrete number can be verified.

Yuhuatai remembers these victims.
The Nanjing Massacre or the Rape of Nanjing was committed by Imperial Japanese troops during the Second Sino-Japanese War. Over a period of six weeks starting on December 13, 1937, the day that the Japanese captured Nanjing, then capital of China, an estimated 40,000 to over 300,000 Chinese were killed.
I didn't have a chance to go to the Nanjing Massacre Memorial Hall, but in 2017 I visited another museum in Harbin ("Unit 731") detailing this horrible period in history. It was so powerful and reminded me of my first visit to the concentration camp memorial site in Dachau, Germany. Visits to places like these always leave deep sadness and scars in me that never fade…
Still simply called Confucius Temple, this site was once the imperial examination testing center for the entire Jiangsu region. Now, only a tiny fraction of the Jiangnan Examination Hall buildings is left, but the museum gives many insights into this fascinating system that was abandoned in 1904 after 1,300 years. All highly prestigious and well-paid civil service official positions were assigned to the tiny number of candidates who passed the extremely difficult exams. There's a nice, easy-to-read article about the imperial examination system on Chinasage – enjoy!
You may wonder, how candidates nowadays compete for the still highly desired government positions? Welcome to the National Civil Service Exams!
As so often, there was much left to see and explore, but my time was up.
Visited: Xuanwu Lake Park – City Wall – Gate of China (Zhonghuamen) – Jiming Temple - Yuhuatai Memorial Park - Confucius Temple - Purple Mountain - Sun Yat-sen Mausoleum - Ming Xiaoling Mausoleum - Imperial Examination Museum
---