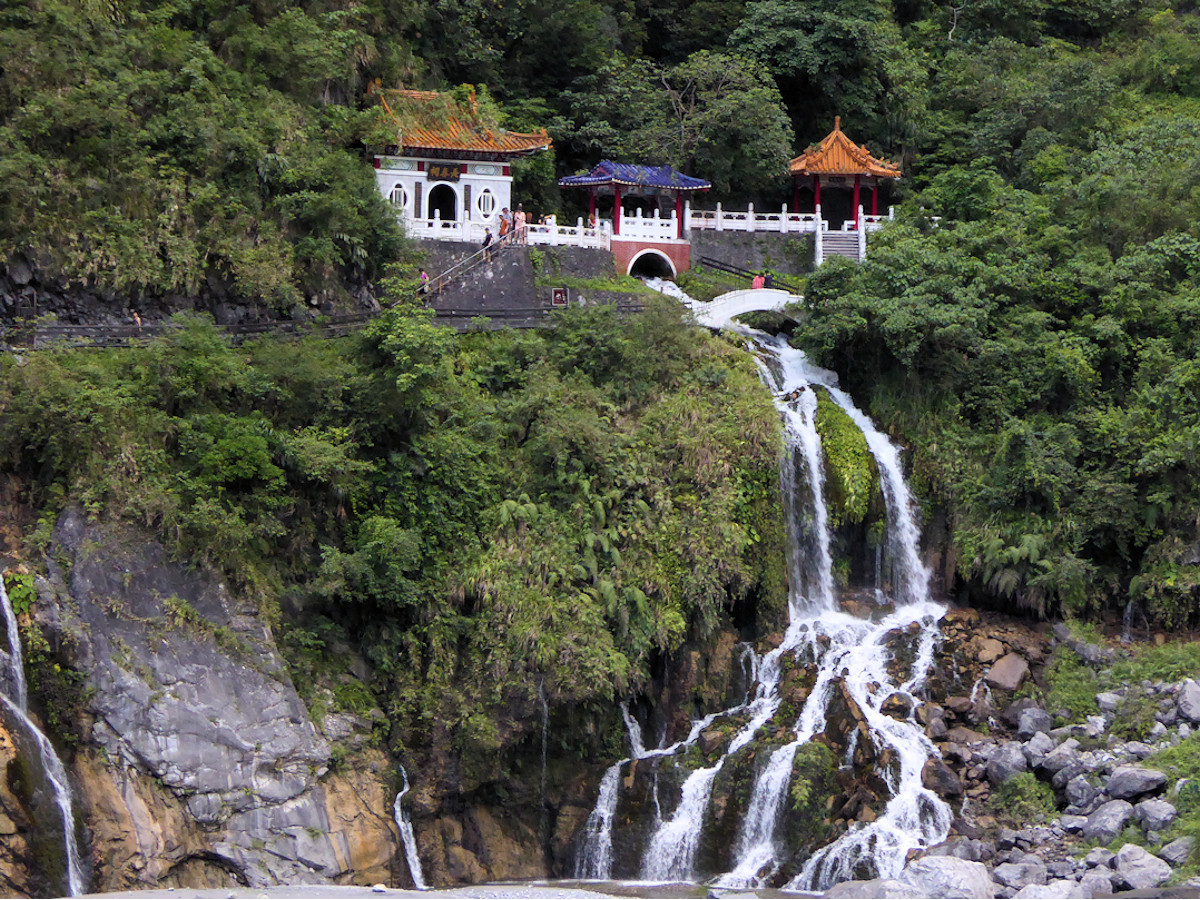 Taroko – Exploring one of Taiwan's 9 national parks
Through some rather unusual connections I had the pleasure to develop a software project for a Swiss company that is now mostly managed by the sales manager Lisi in Taiwan. Although we started working together in 2008, we didn't have a chance to meet until 2015. I had put Taiwan on my itinerary for that year and told Lisi about my plans. Maybe we could go out for dinner one day…?
I had no idea that this would be the beginning of a wonderful friendship and that my week in Taiwan would be filled with one highlight after another. This is the story about the first three days of our time together, more to follow later.
Lisi met me at the airport, we talked business for while at the office, and then went out for dinner. The next morning Lisi and I were on the train to Taroko National Park in Hualien County on Taiwan's east coast, about two hours from Taipei.
Our first stop was at the Matai'an Wetlands with its famous lotus fields. Did you know that flowers, leaves, root, stem, and seeds are all edible? Countless health benefits are also attributed to the lotus: seeds against diarrhea, roots to lower blood sugar and cholesterol, seeds to relieve inflammation, leaves and root extracts to help regulate the menstrual cycle, extract mixed with green tea to help with acne… to name just a few.
Matai'an Wetlands

Next on our list after a good night's sleep was a hike along Baiyang Trail to Shuiliandong Water Curtain. The path leads through eight tunnels. Once inside, we understood why a flashlight was recommended! We didn't have one and had to rely on the railings to guide us through. Thanks to another, better prepared hiker we were able to see some of the bats hanging from the ceiling that you can see in one of the photos below.
Baiyang Trail

We continued on to Swallow Grotto (Yanzikou).
Swallow Grotto (Yanzikou)

When we reached our last destination for the day, Eternal Spring Shrine, we had already several miles on our soles. Then we noticed a small building a little higher up and decided that we had just enough energy left for that one and were on our way. We must have missed a turn and arrived much further up at the bell tower. It was well worth the extra climb!
Eternal Spring Shrine

Our accommodation at YU's B & B was perfect. We loved our little cabin; breakfast was tasty and plenty. Our hosts were very welcoming and resourceful, and Lisi was engaged in many lively discussions (too fast and complex for me to follow). The small resort is surrounded by orchards growing exotic fruits. Right behind our cabin was a huge dragon fruit field just starting to bloom.
YU's B & B

The owners of the B & B also run a market stand at 5D Cabin, the current end of Shakadang Trail, which is closed for all vehicles except for the few native families who have special rights in their traditional territory. Our host offered us a ride on the red "Mercedes" but forwarned us to watch our heads… WOW, was that a wild, wild ride! Once on the trail, I didn't notice much of the spectacular scenery; I was too busy ducking down and holding on! Would I do it again? Of course!
Shakadang trail

The next part was easy but not less spectacular! A taxi driver took us for a ride along the coast. We quickly abandoned the idea of a beach walk. Why? The sand was soo hot; we were afraid it would melt our sandals!

On the way back to Taipei we soaked in refreshing cold springs and stopped in Shifen to send our wishes in a huge lantern to the sky.
Thank you so much, Lisi, for your friendship and for taking me to all these fantastic places. This one week with you in Taiwan was one of the highlights in my life. I'll never forget.