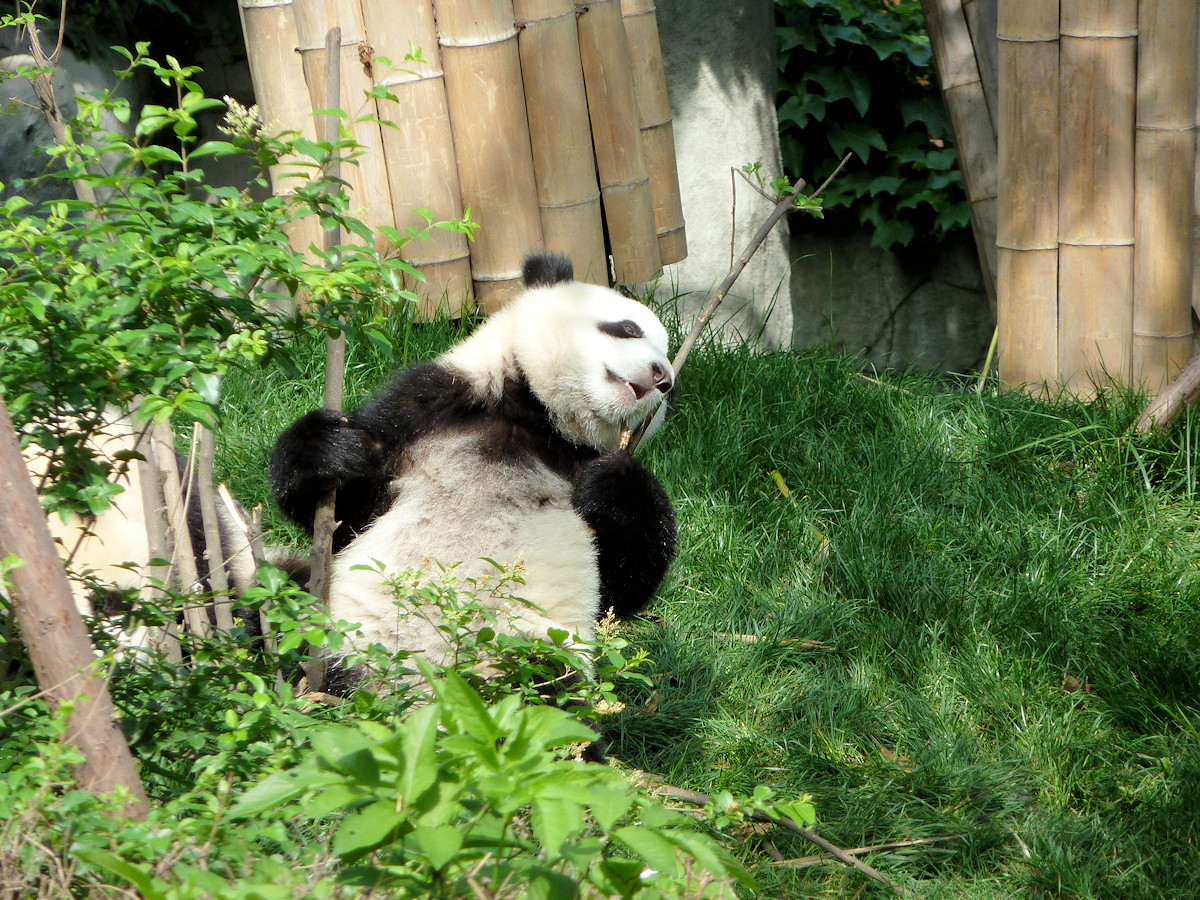 Fun at the Panda Base
Just like most of us, I've always been fascinated by these cute black and white fellows. Naturally, the Chengdu Panda Base was very high on my list of attractions in China.
It's best to be there right at 8:00 when the park opens. That's when the pandas are fed and most playful. Closer to lunch time during the summer months it gets too hot, the pandas are sleepy, and are usually kept indoors. There was no convenient bus connection so I flagged down a cab and was one of the first to cross the gate on that day.
Red Pandas
It's a huge and beautiful park. The large animal enclosures with mostly wooden structures and plenty of trees and greenery make it an ideal playground for the pandas. Watching the animals thoroughly enjoying themselves brings smiles on every visitor's face. I spent the whole day there and still couldn't get enough. Have a look for yourself and watch the pandas in action right now on the iPanda Live Cam.
Link opens in a new Window; might not work in all browsers


Giant Panda
Any questions about these funny fellows? There are lots of humorous and informative signs everywhere! For in-depth information check out the Chengdu Research Base of Giant Panda Breeding website.
Swan lake is home to elegant black swans, and peacocks pretend to be the real stars of panda land. The walkways lead through bamboo tunnels and -if the time is right- colorful flower meadows. Even without the pandas it would be well worth visiting the park!
A beautiful park
Over the last few years I noticed a decline in tour groups; more and more people just venture out on their own. Of course, there are still plenty of groups, some very clearly distinguished by identical ball caps or T-shirts, following the (tour company) flag bearer. I felt so sorry for one such group that was ushered away from a most entertaining panda performance just a few minutes after they arrived. The guests' facial expressions seemed to scream "I don't want to go yet!!!" But the guide left no choice and they had to move on.
Cheap day tours are plentiful wherever there is an attraction. And cheap packages don't mean the company is happy to make less money. A typical day trip includes a bus trip to one or two sights, lunch, and a stop at one or two "factories" or stores where guests have the "opportunity" to shop. Well, these shopping locations are usually well out of the way and nobody is allowed to stay on the bus. If you want to get away from the persistent and sometimes aggressive sales pitches, you can only stand outside along a dusty road or in a similar unwelcoming environment. Inside, it's all about making up on the cheap tour price. The merchandise is usually quite expensive and often includes items you never thought of taking home as a souvenir, such as overpriced jade figurines or expensive bedding items.
Until recently I thought that these sales shows supplement the tour guide's salary. A former guide and friend of mine told me that these commissions are not part but the ONLY money that a guide on such kind of tours makes. Made me really sad…
If you want to join a tour group, pick one you can feel good about, one that costs a little more but offers "no shopping". If you are looking to buy something and need help, there's nothing wrong asking a guide or hotel staff. They usually go out of their way and there's nothing wrong if they make a few yuan commission as a result.
Don't get me wrong, I'm only talking about certain types of cheap tours. I've been on fantastic multi-day tours in Tibet and Qinghai, and our guides did not once mention shopping. We did that on our own in the evening unless we were too tired from the day's activities!